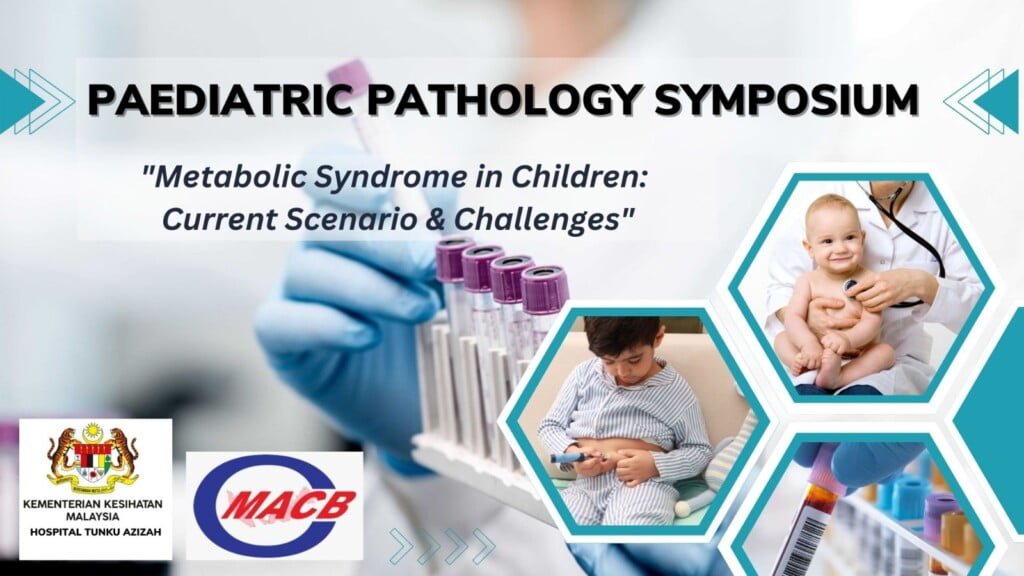 The Malaysian Association of Clinical Biochemists (MACB) and the Pathology Department of Hospital Tunku Azizah jointly organized the Paediatric Pathology Symposium "Metabolic Syndrome in Children: Current Scenario & Challenges" at the Auditorium Perdana, Hospital Tunku Azizah on 27 March 2023. The symposium aimed to provide the latest updates on metabolic syndrome in children from international and local experts. The event was attended by approximately 200 participants from various healthcare professionals such as doctors, medical lab scientists, pathologists, paediatricians, and nurses.
The symposium commenced with a speech by YBrs. Dr. Shamsul Anuar Bin Kamarudin, Director, Hospital Tunku Azizah, followed by five symposia. The first symposium was presented by Prof. Dr. Muhammad Yazid Bin Jalaludin, who is currently a Senior Consultant Paediatrician and Consultant Paediatric Endocrinologist at the University Malaya Medical Centre (UMMC). He discussed the Malaysian scenario of childhood obesity. He presented findings from the National Health and Morbidity Survey (NHMS) in 2019, which revealed an increase in obesity prevalence from 6.1% in 2011 to 14.8% in children aged five to 17 years. He highlighted the adverse health consequences associated with obesity, such as cardiovascular risk factors, dyslipidemia, hypertension, type 2 diabetes mellitus, fatty liver disease, respiratory problems, gastrointestinal disorders, and psychiatric disorders. Prof. Dr. Jalaludin emphasized that childhood obesity often persists into adulthood, increasing the risk of developing non-communicable diseases and adult mortality. The management of pediatric obesity mainly relies on lifestyle and behavior modifications. However, the FDA approved liraglutide for obese adolescents aged 12-17 years in December 2020.
The second symposium was presented by Prof. Dr. Khosrow Adeli, who is currently president of The International Federation of Clinical Chemistry and Laboratory Medicine. He discussed the pathophysiology of pediatric obesity and metabolic syndrome. He highlighted the alarming rise in incidence of insulin-resistant states such as obesity and type 2 diabetes worldwide in both adult and pediatric populations. Insulin resistance is a central pathophysiological feature of type 2 diabetes and abdominal obesity and is commonly associated with metabolic dyslipidemia. The metabolic syndrome is characterized by a constellation of pathologies that include glucose intolerance, insulin resistance, obesity, dyslipidemia, and hypertension. Insulin resistance develops as the first indicator of type 2 diabetes, and indicators of insulin resistance include impaired glucose tolerance, hyperglycemia, and elevated plasma insulin levels. Type 2 diabetes has begun to present with increasing frequency in the pediatric population, and it is feared that disease progression begins early in life, producing type 2 diabetes and cardiovascular disease in early adulthood.
The third symposium was presented by Dr. Nalini M Selveindran, a paediatric endocrinologist from Hospital Putrajaya (HPJ). She discussed the changing face of pediatric diabetes. She highlighted the increased prevalence of type 2 diabetes in children and adolescents and the challenges of managing diabetes in the pediatric population. She emphasized the importance of early diagnosis and management to prevent further complications.
The fourth symposium of the day was presented by Prof. Dr. Khosrow Adeli on "Clinical Application of Cardiac Markers in Pediatrics". Cardiac markers are used in the diagnosis, risk stratification, and management of patients with acute coronary syndrome, heart failure, and other cardiovascular disorders. Prof. Adeli discussed the utility and limitations of various cardiac markers, including troponin, B-type natriuretic peptide, and myoglobin, in the diagnosis and management of pediatric patients with cardiovascular disorders.
The final symposium of the day was presented by Dr. Saraswathy Apparow (Chemical Pathologist,IMR) on "Diabetes Autoantibody Testing in Malaysia – Laboratory Perspective and Experience". The presentation provided insights into the prevalence of diabetes in Malaysia, the different types of diabetes, and the laboratory techniques used to diagnose and monitor diabetes. Dr. Apparow also discussed the role of autoantibody testing in the diagnosis of type 1 diabetes, highlighting the importance of accurate and timely diagnosis to prevent complications.
After the symposium ended, Prof. Dr. Khosrow Adeli visited the laboratory at Hospital Tunku Azizah to have further discussions with the paediatricians, pathologists and medical lab scientists there. The discussions involved topics related to the laboratory techniques used in diagnosing and monitoring metabolic syndrome and its associated conditions, such as diabetes and cardiovascular disorders. Prof. Adeli have also shared his expertise on the latest research and developments in the field of metabolic syndrome and discussed potential collaborations between the hospital and his institution. These discussions would have likely been valuable for the hospital staff in improving their understanding and management of metabolic syndrome in children.
In conclusion, the Paediatric Pathology Symposium on "Metabolic Syndrome in Children: Current Scenario & Challenges" provided an excellent platform for participants to learn about the latest updates on the topic from international and local experts. The symposium covered a range of topics including the pathophysiology of metabolic syndrome, the latest updates on obesity and diabetes in children, and the laboratory roles in aiding management. It is hoped that the symposium will raise awareness of the importance of early diagnosis and intervention in children with metabolic syndrome to prevent further complications and improve health outcomes. MACB would like to thank all those who have contributed one way or another to make our symposium a success. We extend our heartfelt gratitude to our distinguished keynote speakers, esteemed panelists, dedicated organizing committee, and enthusiastic participants. We also wish to acknowledge the generous support of our sponsors: Pantai Premier Pathology, Abbott Laboratories, and Diagnostic System Sdn Bhd, without whom this event would not have been possible. We hope that this symposium has provided valuable insights and inspiration to all attendees and look forward to organizing more impactful events in the future.