7th Congress of Asia Association of Medical Laboratory Scientists (AAMLS)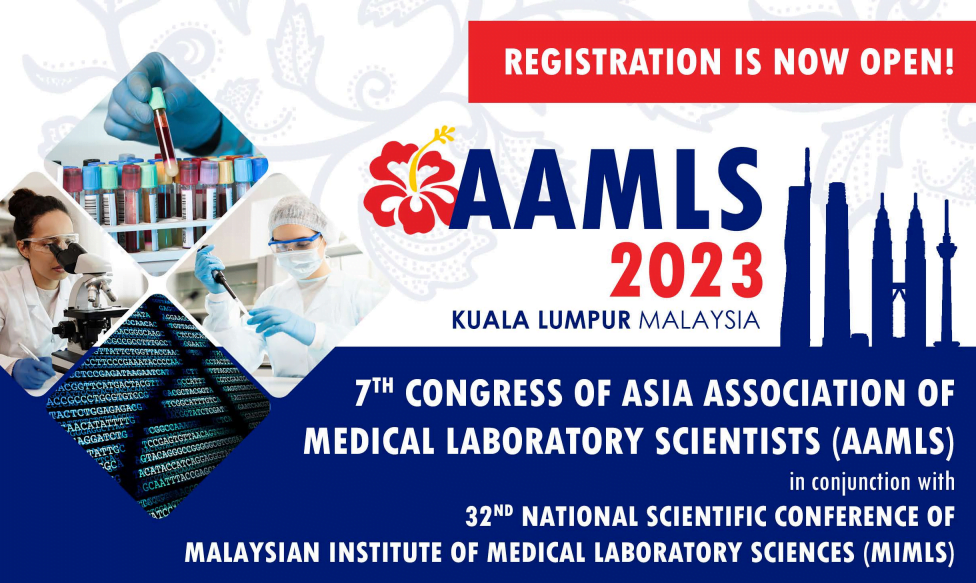 Dear Fellow Colleagues,
On behalf of the Asia Association of Medical Laboratory Scientists (AAMLS), we extend our warmest greetings to all delegates attending the 7th Congress of Asia Association of Medical Laboratory Scientists (AAMLS), to be held in Kuala Lumpur, Malaysia from 9 – 12 October 2023.
The practice of modern medicine would be impossible without the tests performed in the medical laboratory. Laboratory professionals are the detectives of the healthcare world, hunting for clues to the presence, absence, extent, and causes of diseases. Their dedication and commitment are equally high, despite spending less time with patients than doctors and nurses.
In this context, the Malaysian Association of Clinical Biochemists (MACB) is pleased to support the Pre-Congress Workshop titled "Impact of ISO 15189:2022 on Laboratory Quality Management." This workshop aligns with the mission of AAMLS to advance laboratory medicine nationally and regionally.
The Pre-Congress Workshop offers a unique opportunity to dive into the latest ISO 15189:2022 standards and their implications for laboratory quality management. Participants will learn best practices, explore real-world examples, and engage with industry experts to ensure compliance and excellence in laboratory operations.
We believe that this workshop, in conjunction with the 7th AAMLS Congress, exemplifies the potential of regional cooperation and knowledge exchange in the field of laboratory medicine. By participating in this workshop, you contribute to the shared goal of advancing healthcare standards in Asia.
Please register for the workshop at this link to secure your place https://mimls.org/aamls2023. Seats are limited, so early registration is advisable.
Your participation in this workshop and the 7th AAMLS Congress will not only expand your knowledge but also foster valuable connections within the laboratory healthcare community. It's an opportunity to renew old friendships and forge new ones, potentially leading to collaborative projects and resource optimization for the betterment of laboratory services regionally.
We are excited to provide you with this opportunity to grow as professionals and contribute to the continued health and well-being of mankind. Your expertise and input will enrich the discussions and activities planned for this event.
The Organizing Committee has prepared an engaging program, including lectures, symposia, workshops, and poster sessions featuring international and regional experts. Additionally, a Trade Exhibition will showcase cutting-edge medical laboratory equipment and diagnostic aids.
We extend our best wishes for an intellectually stimulating and productive meeting, and we hope this Congress provides you with a professional and personal experience of a lifetime. We also express our sincere congratulations to all involved in making this event possible.
Thank you for your commitment to advancing laboratory medicine in Asia. We look forward to your active participation in the Pre-Congress Workshop and the 7th AAMLS Congress.